CITB Health & Safety Awareness
Site Safety Plus – CITB Health & Safety Awareness
Overview

The CITB Health and Safety Awareness is a one day course for those who work in construction, or are looking to start a career in construction. The course is used as a basic introduction into understanding the potential hazards on site. Delegates will also learn how to contribute to keeping the workplace safe.
Course Objectives
By the end of the course the delegate will be able to:
Understand the need to prevent accidents.
Have an understanding of Health and Safety Law.
Identify how their role fits into the control and management of the site.
Understand the need for risk assessments and method statements.
Appreciate the need to perform safely and to stop and ask for advice if not sure.
Feel obliged to report unsafe acts to prevent an accident.
The course will also cover The Health & Safety at Work Act and its surrounding regulations. All of the regulations covered will relate to the construction industry. Below are the units that the course will include.
Everyday Responsibilities.
Reporting and Preventing Accidents.
An Introduction into Health and Welfare.
Working At Height.
Manual Handling.
(PPE) Personal Protective Equipment.
First aid and Emergency Procedures.
Control and Prevention of Fire.
Electrical Safety.
Hazardous Substances.
Handheld Tools and Equipment.
Safety with Site Transport.
Vibration and Noise.
Confined Spaces and Excavation.
The course consists of a classroom based discussion work. It will also include individual/group presentations. Delegates are expected to be interactive on the course. At the end they will be assessed by 25 multiple choice questions. The delegates will need 18 correct answers to pass.
Further Development
On completion of the course the delegate would then apply for the CITB Health and Safety and Environment touch screen test. They will do this in order to obtain their
CSCS green labourers card. The card is used as proof that the
person has passed the relevant training. The card shows that they
should be able to demonstrate Health and Safety competence.
Applying for a CSCS Green Card
In order to apply for a green card you will need to follow these three simple steps.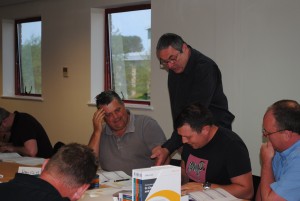 Make sure you have completed your Health and Safety Awareness course.
Once you pass 3B will send off your course paperwork to CITB.
Pass the CITB Health, Safety and Environment test.
Call CSCS on 0344 994 4777 and pay £30 by credit or debit card or by cheque.
For more information visit the CSCS card finder here.
The Site Safety Plus: CITB Health and Safety Awareness course is available in Bolton, Durham, Manchester, Liverpool, Leeds, Derby, Watford, Hull and Sheffield.
Find a Course
Location: Manchester
Date: 27 Mar 2017
£125.00 + VAT
£112.50 + VAT
Location: Bexley
Date: 27 Mar 2017
Location: Leeds
Date: 31 Mar 2017
Location: Sheffield
Date: 31 Mar 2017