ALS Safety
About ALS Safety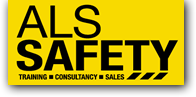 ALS Safety is one of 3B Training's more recent health & safety training partners who deliver training nationwide. Since 2009 ALS have gained a great reputation for quality, family-owned training provider by delivering Working at Heights and Health & Safety related training over the years.
ALS Safety and 3B Training
3B Watford want to be able to supply a range of courses to its clients; as a classroom provider, 3B needed a quality partner to provide Safety Harness Training and MEWPs training to the southern area of the UK that they could ensure their clients got the same level of quality service that 3B Training provides but with a partner. ALS Safety offers exactly that. ALS Safety offers training courses 7 days a week in their 2 southern locations Bracknell and Wembley, both in-house and accredited at very reasonable prices.
3B Training offer ALS the facility to book onto their Site Safety Plus courses in return.  ALS has the same vision as 3B, to provide quality training to delegates. ALS have chosen 3B as a partner as they work hard together to provide excellent service, flexibility and quality training.
A quote from the client
ALS Safety Director Darren Verchuren said: "I feel that our work with the Watford team at 3B Training has gotten off to a great start and we are cooperating well. We needed an SSSTS course on a weekend for one of our clients at very short notice; I spoke to Lynsey at 3B Training and she arranged that quickly and effectively.
I look forward to working with 3B Training in the future as our relationship begins to grow".
Find a Course
Next Available Courses
SEATS

Online - 02 Oct 2023

£180 + VAT 3 PLACES LEFT!

SMSTS

Liverpool - 02 Oct 2023

£530 + VAT

Emergency First Aid

Wigan - 02 Oct 2023

£105 + VAT

SSSTS

Manchester - 02 Oct 2023

£288 + VAT

SMSTS

Wigan - 02 Oct 2023

£530 + VAT

Temporary Works Co-Ordinator

Leeds - 03 Oct 2023

£425 + VAT

First Aid at Work

Wigan - 03 Oct 2023

£230 + VAT

Health and Safety Awareness

Wigan - 04 Oct 2023

£142 + VAT

Basic Scaffolding Inspection

Doncaster - 04 Oct 2023

£540 + VAT 2 PLACES LEFT!

Temporary Works Co-Ordinator

Wigan - 05 Oct 2023

£425 + VAT

SEATS

Derby - 05 Oct 2023

£180 + VAT

Temporary Works Co-Ordinator

Doncaster - 09 Oct 2023

£425 + VAT

NEBOSH General Certificate

Leeds - 09 Oct 2023

£1320 + VAT

NEBOSH Construction Certificate

Leeds - 09 Oct 2023

£1515 + VAT 3 PLACES LEFT!

SMSTS Refresher

Leeds - 09 Oct 2023

£325 + VAT

SMSTS Refresher

Derby - 09 Oct 2023

£325 + VAT

NEBOSH General Certificate

Wigan - 09 Oct 2023

£1320 + VAT

NEBOSH Construction Certificate

Wigan - 09 Oct 2023

£1515 + VAT

SSSTS

Liverpool - 09 Oct 2023

£288 + VAT

NEBOSH Construction Certificate

Liverpool - Open Awards - 09 Oct 2023

£1515 + VAT

NEBOSH General Certificate

Online - 09 Oct 2023

£1320 + VAT