Mental Health First Aid Training Course
Mental Health First Aid (MHFA) is a training course that you must attend to become a qualified mental health first-aider. You will learn about different mental health issues and how to recognise them in yourself and others. The knowledge that you gain will help you support those in the workplace who struggle with their mental health and point them in the right direction to get help.
Become a qualified Mental Health First Aider
We deliver the course in manageable parts
Accredited qualification
Support those with mental health issues
Transferable skills
CITB Grant Claimable
Valid for three years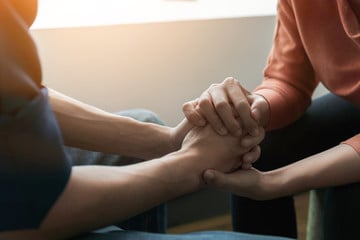 Mental Health First Aid Training course content
The content covered in the course is designed to raise awareness of mental health in the workplace and to help you gain the skills to support those affected.
Please note: The tutor will cover some sensitive subjects which some delegates may find distressing.
The course content goes over subject areas such as:
Your roles and responsibilities in the workplace, and promoting good mental health recovery.
Understanding mental health.
How it can affect the well-being of yourself and others.
Recognising the early signs of mental health problems.
What to look out for in an individual's behaviour to monitor and address their situation.
Offering support to someone going through a mental health issue.
Leading someone towards suitable treatment, the stigma of mental health, and enhanced interpersonal skills such as non-judgemental listening.
Protecting those who are of harm to themselves.
Confidence to step in, reassure and support a person in distress.
Mental health issues.
Awareness of anxiety, stress, depression and other mental health issues.
Assessment.
The tutor assesses you throughout the course on your contribution to the below flexible sessions:
Depression and what is mental health?
Suicide and substance misuse.
Anxiety disorders, self-harm, eating disorders and personality disorders.
Psychosis and building a healthy community for all.
How long is the Mental Health First Aid training course?
The MHFA classroom-based course is two days long, whereas the remote version is delivered through four short sessions over two weeks.
Both formats are highly interactive and cover the same level of content.
Why should I take this course?
Anyone who wants to become an adult mental first aider should attend this course. The course will give you various skills that will help you provide support to those who need it.
By having the skills to spot the signs of poor mental health, you could potentially stop their issues from becoming worse or even save a life in severe circumstances.
You will also gain the skill of active listening, which will not only help in mental health-related circumstances but in everyday life. Non-judgemental listening is a key trait to have and can be highly transferable.
The qualification is fondly looked upon throughout all industries. Mental health issues are concerning businesses throughout the country; qualifying can add an "extra string to your bow" when finding employment or progressing in your role.
Mental Health First Aid Training entry requirements
You must register with MHFA England via the link provided by 3B Training if attending the online learning course.
Do this at least 14 days before the course start date.
To attend the Online Learning course.
You use a computer or laptop that uses a microphone, a webcam, and access to the internet. You need to have access to one of the above devices to complete the course properly and get involved with discussions.
Is this course accredited?
An MHFA England instructor delivers this course. Mental Health First Aid England are providers of mental health courses and resources for the UK. They tailor their training to both individuals and businesses to equip them with the skills and awareness they need to support people's wellbeing.
Where can I take this course?
This course can be completed in the classroom or as an Online Remote Learning course.
Public Classroom Courses
Classroom-based Mental Health First Aid courses are available in selected training venues. The course is delivered in a traditional classroom environment by a Mental Health First Aid England tutor. Individuals and companies booking on their behalf can book one or more places over the phone or through our website.
Please take a look at our upcoming course dates here.
Remote Learning
We can also deliver the Mental Health First Aid course remotely. Unlike the classroom-based course, the online course is delivered in four short sessions over two weeks; you are required to complete some work in your own time both before and during the course. All you need to do is log into the virtual classroom through the link provided to attend the sessions. To do so, you will need a device with a screen, camera, microphone and access to the internet. The MHFA approved tutor will send you all the required links and materials electronically throughout the course.
In-house Courses
We can also arrange for Mental Health First Aid to be delivered as an in-house course, specifically to a group from your company. We can arrange for the course to be delivered via remote learning at one of our venues or a venue of your choice. In-house mental health training can be very effective for a group who work together. The familiarity can encourage discussion between delegates, get them to share personal experiences and share company relevant examples.
To enquire, all you need to do is fill in our in-house enquiry form on this page. We provide all of our quotes on a case by case basis, depending on location and delegate numbers.
Further development
On completion of the course, your certificate will be sent directly to you to download digitally. You will need to renew your certificate three years after course completion by attending the course again.
There are other courses available that can help support the health, safety and wellbeing of your workplace.
Emergency First Aid gives you an understanding of first aid procedures in the workplace and the skills to deal with accidents in a low-risk environment.
Fire Warden will allow you to become the appointed fire person in your workplace. You will learn about workplace procedure, fire safety legislation and how to deal with an evacuation.
If you are looking to broaden your mental health knowledge, we also offer Stress Management eLearning. This course focuses on stress specifically, how it is caused, and how you can manage it.
Is this course CITB Grant claimable?
You can claim £70 as long as you provide us with your CITB Levy number either at the time of booking or on the day of the course.
NEXT AVAILABLE COURSES
Next Available Courses
Mental Health First Aid Day Release

Online - 05 Dec 2022

£260 + VAT

Mental Health First Aid

Wigan - 15 Dec 2022

£270 + VAT

Mental Health First Aid

Wigan - 24 Jan 2023

£270 + VAT

Mental Health First Aid

Wigan - 03 Apr 2023

£270 + VAT

Mental Health First Aid

Wigan - 10 Jul 2023

£270 + VAT

Mental Health First Aid

Wigan - 16 Oct 2023

£270 + VAT
Can't see the course date or location you are looking for?
VIEW MORE COURSES