Top Health & Safety Training Courses for Office Workers
Every year there are multiple injuries to Office Workers in the UK.
Office Workers health and safety training can be very useful in lowering accidents in the workplace. Take a look at the different types of training that can be attended by different people around the office.
First Aid Training
Offices tend to be generally a low-risk environment but this doesn't mean there will never be a need for first aid. Accidents in the office are mostly considered to be minor but they are also diverse. By attending an Emergency First Aid course you can be prepared for the wide variety of injuries that may occur. You will learn how to stock a first aid kit so that you have the facility to deal with an accident.
The tutor teaches you how to tr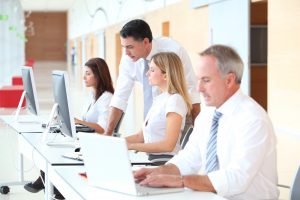 eat cuts, burns, sprains and eye injuries. Although uncommon you may also need to know how to attend to a choking or bleeding casualty; the course will teach you all the skills to act in these circumstances. Delegates will also learn how to apply CPR.
Manual Handling
Over a quarter of all workplace injuries are caused by incorrect manual handling. Over time manual handling injuries tend to develop and can cause reoccurring injuries in the future. Office workers are prone to these injuries due to the amount of time they are sat down; if you are sat down for long periods of time when you decide to lift an object you are prone to an injury.
Manual Handling training teaches workers how to improve their technique so that they can manoeuvre objects safely. The course will also go over other transferable skills such as risk assessments and how to reduce and control risks.
Management and Supervisors
Managers and supervisors are expected to deliver on-site health & safety criteria to their employees. They are also expected to have received the same basic level of training as those below them.
As well as needing the same basic training as employees throughout their career; managers and supervisors need to make sure they are working to the correct criteria themselves so therefore need to attend the relevant training course to do so.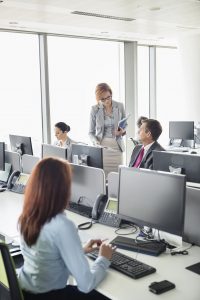 The IOSH Managing Safely course is the ideal course for a more general audience such as Office Managers. The course provides the attendees with the ability to be in control of the health and safety of others. The course will help manager's spot hazards in the workplace and understand the common causes of occupational injury and how to prevent them.
Fire Safety
The standard policy in the event of a fire in the office is to evacuate the building and call the emergency services. Although this is the case you need an appointed person available to make sure it is done properly and safely.
By attending a Fire Warden or Fire Marshall course you will have someone on site to help prevent the event of a fire and to make sure you are prepared for the event of an emergency. The Fire Warden course will also provide delegates with the skills to put an evacuation procedure in place. The delegate will also learn how to prevent the fire from spreading during an evacuation.
Office Health and Safety Tips
For more advice on safety in the office take a look at our Office Health and Safety Tips
Back to News
View Our Courses