Top Health & Safety Training Courses for Office Workers
Every year there are multiple injuries to Office Workers in the UK.
Office Workers health and safety training can be very useful in lowering accidents in the workplace. Take a look at the different types of training that can be attended by different people around the office.
First Aid Training for Office Workers
Offices tend to be generally a low-risk environment but this doesn't mean there will never be a need for first aid. People consider accidents in the office as generally minor but they are also diverse. By attending an Emergency First Aid course you can be prepared for the wide variety of injuries that may occur. You will learn how to stock a first aid kit so that you have the facility to deal with an accident.
The tutor teaches you how to tr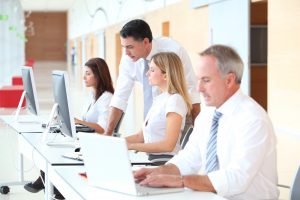 eat cuts, burns, sprains and eye injuries. Although uncommon you may also need to know how to attend to a choking or bleeding casualty; the course will teach you all the skills to act in these circumstances. Delegates will also learn how to apply CPR.
The office's kitchen can be a very dangerous place. To help educate yourself on the dangers take a look at "Top 3 Most Common Accidents in the Kitchen".
Manual Handling Training for Office Workers
Over a quarter of all workplace injuries are caused by incorrect manual handling. Over time manual handling injuries tend to develop and can cause reoccurring injuries in the future. Office workers spend a lot of time sat down; leaving themselves prone to these injuries. If you are sat down for long periods when you decide to lift an object you are prone to an injury.
Manual Handling training teaches workers how to improve their technique so that they can manoeuvre objects safely. The course will also go over other transferable skills such as risk assessments and how to reduce and control risks.
Management and Supervisors
Managers and supervisors are expected to deliver on-site health & safety criteria to their employees. They are should also have the same basic level of training as those below them.
As well as needing the same basic training as employees throughout their career; managers and supervisors need to make sure they are working to the correct criteria themselves so therefore need to attend the relevant training course to do so.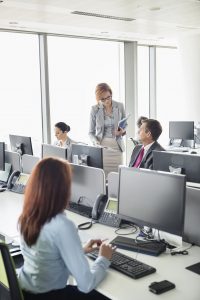 The IOSH Managing Safely® course is the ideal course for a more general audience such as Office Managers. The course provides the attendees with the ability to be in control of the health and safety of others. The course will help the manager's spot hazards in the workplace and understand the common causes of occupational injury and how to prevent them.
Fire Safety for Office Workers
The standard policy in the event of a fire in the office is to evacuate the building and call the emergency services. Although this is the case you need an appointed person available to make sure it is done properly and safely.
By attending a Fire Warden or Fire Marshall course you will have someone on-site to help prevent the event of a fire and to make sure you are prepared for the event of an emergency. The Fire Warden course will also provide delegates with the skills to put an evacuation procedure in place. The delegate will also learn how to prevent the fire from spreading during an evacuation.
Office Health and Safety Tips
Employers encounter the same health and safety issues in the office all the time. Here is some information on how to prevent accidents in the workplace and what you should be looking out for.
Why is health & safety important in an office work environment?
Health & safety is important in the office because it protects any employees, visitors and customers from potential hazards. You need to consider a lot of factors to lower the risk of an accident.
What are some common hazards to Office Workers?
You wouldn't consider the office to have a lot of hazards, however, the odds of you getting injuries are still quite high. It's up to the employer to keep the workforce safe; although office injuries can easily be prevented they are still a common occurrence.
Take a look below at some common office hazards and how you can prevent them.
Incorrect Manual Handling Injuries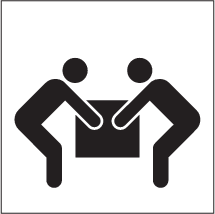 In most circumstances, you should not be required to lift heavy objects in an office-based role. People who don't regularly lift end up injuring themselves due to incorrect manual handling.
If your workforce is continuously lifting heavy loads in the office; it is wise to consider putting them on a manual handling course. Lifting incorrectly can lead to injury not just in the short term but in the long term. In 2013/14 an estimated 909,000 working days were lost due to handling injuries. Employers should provide the correct training to massively reduced these accidents.
To prevent future musculoskeletal injuries you should attend a Manual Handling course. The course will help to improve your manoeuvring techniques and teach you how to assess a load before lifting.
Trip, Slips and Falls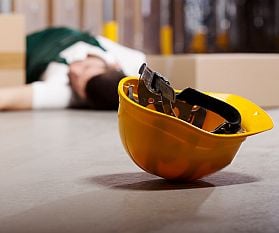 Falling in the workplace are the biggest cause of accidents. Statistically, office workers are more than two times as likely to be hurt from a trip or slip at work than any other workplace.
People fill the office with potentially dangerous obstacles; they create them from being careless in the workplace. Boxes, open drawers, loose wires and loose flooring can all be causes of a trip. Unlabelled wet floors, using chairs rather than ladders and broken chairs can also lead to a fall in the office.
Slips and trips are the most common cause of workplace injury, by conducting basic risk assessments they can be limited drastically.
How can I prevent them?
Put regular cleaning procedures in place as well as a plan for responsive cleaning.
Keep an eye out for trip hazards and make them noticeable because people could trip over them.
Make sure employees wear suitable footwear for the workplace.
Mop wet floors a soon as there is a spillage so people don't slip.
It is advised to attend an IOSH Working Safely course to help improve the attitude to health and safety in the office.
Ergonomic Injuries
Although they may not be instant, long-term injuries can be caused by a badly set out workstation. You or someone in your organisation must conduct a DSE Assessment. They must consider the following to avoid problems with posture, eyestrain, hands and skeleton:
Are you sitting correctly? You need to make sure you sit on a chair with proper back support, your feet are flat and that your thighs are horizontal.
Your chair height needs to be at a level so that your arms are at 90 degrees and your wrists are horizontal.
Your computer monitor must be adjusted so that your eye line is level to the top of your screen.
Make sure your screen text is large enough and there is no glare on your screen to avoid eye strain.
Don't be afraid to take a break from your desk to rest your eyes and get up to stretch; this will help avoid any repetitive strain injuries.
Head Injuries in the Office
You are not going to wear a hard hat in the office so you need to make sure you are not in danger of being hit by a falling object. The office isn't as safe as it may seem so make sure you are especially aware when walking around heavily congested areas and that you watch where you are walking. Avoid placing objects on the top of cupboards or stacking objects too high to lower any risks. Try purchasing some proper storage cabinets and put all the heavy objects on the lower shelves for example.
Hot Liquid Injuries
It is well renowned that office workers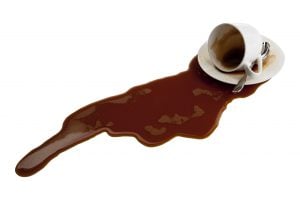 love a brew. So much tea & coffee is consumed, that the likelihood of a second-degree burn gets higher and higher. Try to avoid carrying multiple cups and keep your soup sealed to avoid the possibility of a very painful burn.
Fire Safety in the Office
It is also important to have an appointed person who deals with Fire Safety in the office. Employers must ensure that there is always an appointed person on-site; they should make sure that their employees have attended fire warden training.
To find out more about how fire warden training can benefit you click here.
therefore Even if you are not an appointed person it always helps to be aware of the potential danger which could lead to a fire. When you are walking around the office keep an eye out for the below to avoid an emergency:
Make sure you maintain power cords and wires. Frayed or damaged wires are very unsafe. It is also important to avoid overloading extension cords, stick to one or two devices at a time to avoid them overheating.
Keep office heaters out of the path of people walking so they don't tip over, also keep them away from flammable objects.
Make sure that people don't obstruct the sprinklers. Do not place objects within 18 inches of a sprinkler as you will block its range of coverage.
Never block a fire escape route. Never hold open a fire escape and clear all paths of office clutter.
3B Training is not just a training provider we also provide a consultancy service and are willing to point you in the right direction regarding occupational health and safety.
Back to News
View Our Courses