Top Tips for Staying Safe in the Sun
When the sun is out you are leaving yourself at risk of sunburn; which increases your risk of getting skin cancer.
You shouldn't just think about sun protection when you're on holiday; believe it or not, you are in danger of getting sunburned in the UK as well!
Take a look below at a few tips on how to enjoy the sunshine whilst keeping yourself protected.
Choose the Right Sunscreen
When choosing sunscreen you need to check the bottle before purchasing. If you choose a sun protection factor (SPF) any lower than 15; you will not be protected from UVB. Another clue is the letters "UVA" in a logo with at least four stars beneath it on the bottle. Also, check the expiry date on the sunscreen before applying to make sure it hasn't past its shelf life.
Applying Sunscreen Properly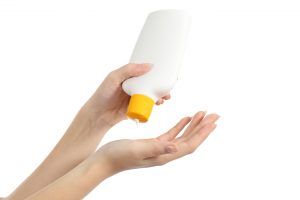 When applying sunscreen make sure you that apply enough; if you are in a swimming costume or swim shorts and you need to cover your whole body, apply around two tablespoons of sunscreen. If you are just covering your arms, neck and face, two teaspoons should be enough. You can always apply more if you feel that it isn't working effectively. Don't forget those easily missed spots such as the ears, nose and toes.
It is advised that you apply sunscreen around 30 minutes before going out in the sun and that you reapply regularly. Make sure you consider reapplying after being in the water, sweating or towel drying.
Look For Shade
For those who enjoy sunbathing, you need also think about spending time in the shade. Between 11 am and 3 pm in the spring and summer the sun is at its most powerful. That is the time when you need to think about taking shelter to avoid burning.
Wear the Right Clothing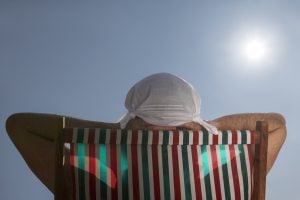 As much as you want to get a nice tan when the sun is shining you need to also think about protecting yourself. Take a look below at the clothing you should consider when catching the rays:
Sunglasses – you don't just wear them to keep the sun out of your eyes; sunglasses protect your eyes from burning. It doesn't mean you can stare directly at the sun just because you have sunglasses on; this could lead to permanent damage to the eyes.
Wide-brimmed hats that cover the ears, neck and shoulders as well as your face.
Long sleeved tops.
Wear trousers rather than shorts.
Long skirts.
Dealing With the Effects of Sunburn
If the eventuality comes that you do end up with sunburn there are ways to treat it effectively. Apply cool water to the skin to cool down the hot skin and reduce swelling, then apply after sun lotion. It is acceptable to take ibuprofen or paracetamol to reduce the pain and inflammation of the burn. It is advised to seek medical attention if you feel any after-effects of the sunburn such as blisters, swelling or sickness.
Taking Extra Care
The sun and skin cancer should not be taken lightly; some people are more at risk than others and need to take extra care. Those who tend to burn rather than tan, such as people with pale skin or are rarely in intense sun need to be careful. Also, those who have a lot of moles and freckles have a higher risk of getting skin cancer. If you fall under those categories you need to keep an eye on your body after being exposed to sunlight; if your moles or freckles start to change shape, size or colour or new lumps begin to appear you need to consult your doctor.
It is much easier to treat skin cancer when it is spotted early.
Skin Cancer in the Construction Industry
If you work in the construction industry you may also be in danger of getting skin cancer as a result of continuous contact with sunlight. To find out more take a look at our blog Skin Cancer in the Construction Industry.
Back to News
View Our Courses